The homepage for Steve Radabaugh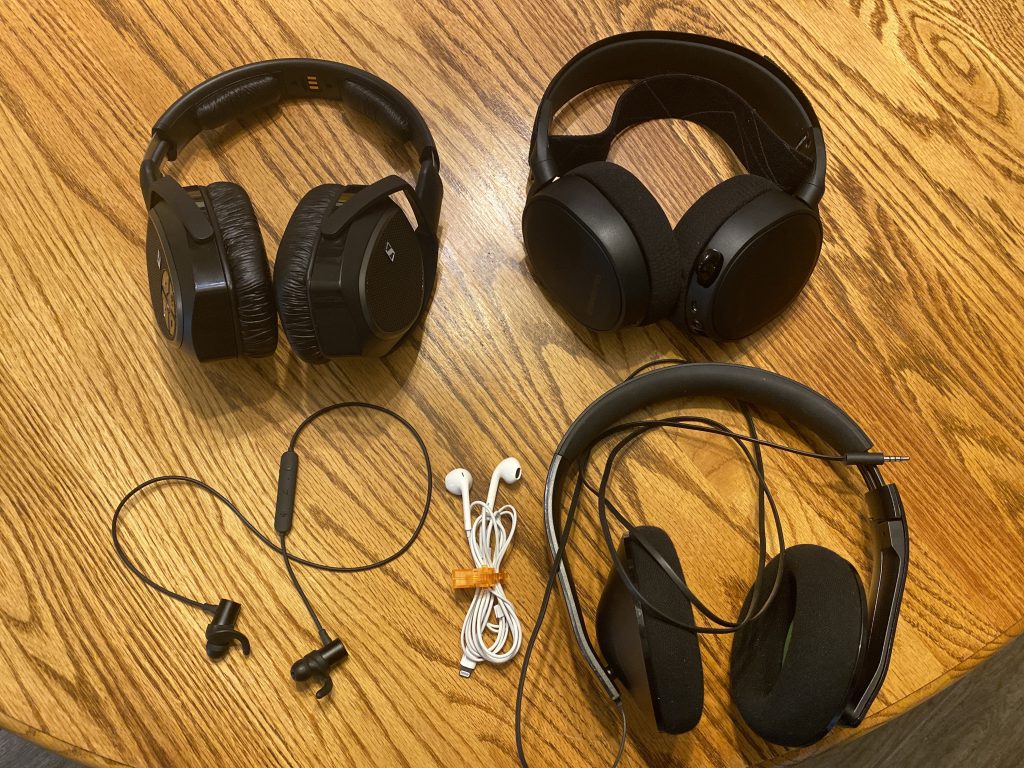 I'm up to 5 sets of headphones that I regularly use. This may seem obscene, but it's what works for me. From top left going clockwise:
Sennheiser HDR175. These are wireless headphones that are hooked up to the home theater. They're for watching loud movies after the kids are in bed. I'm a big fan of them. The sound quality is great for the price.
Steelseries Arctis 7. I just got these last weekend. They are also wireless, but use a USB connection. They live on my gaming PC. I haven't tried the mic yet, but I've been told it's really good. I only wish the transmitter for them was smaller. It's a puck about 1.5 inch in diameter with a 3-4 foot USB cord. Not super convenient for switching to other devices. They do fit over the oculus VR headset if I want better audio while in VR.
Microsoft XBox headset. These are pretty standard headphones that are meant to plug into an Xbox controller. I mostly use them for watching movies and zoom calls on my laptop. The cord is pretty short which is sometimes helpful, sometimes not. The sound quality is okay. They get the job done. I'd probably just use the Arctis 7s if the transmitter for them was smaller.
Apple Earbuds with Lightning connector. I use these on my phone for podcasts or phone calls when I don't want to tune out the outside world. I wouldn't mind replacing these with AirPods some day.
Soundpeats Q30 plus. These get paired with my phone for music/podcasts when I do want to tune out the outside world. Especially if I'm using power tools, mowing the lawn, or running. As a note I hate talking on them because it's like talking with earplugs in. I sometimes pair these to my laptop to watch TV shows while doing something else because I can walk around.
Cool Stuff • April 14, 2020
---